Sudhir Muralidharan, UNOPS Country Director for Sri Lanka and the Maldives, with SACEP Director General Dr. Md. Masumur Rahman
---
Initiative to support the Plastic Free Rivers and Seas for South Asia project funded by the World Bank
---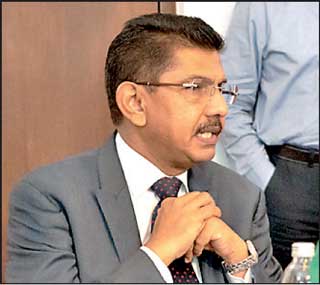 Secretary of the Ministry of Environment, Dr Anil Jasinghe
---
UNOPS has signed an agreement with the South Asia Cooperative Environmental Program (SACEP), an intergovernmental organization headquartered in Sri Lanka, to support them in the implementation of the World Bank
funded the Plastic Free Rivers and Seas for South Asia (PLEASE) project.
The PLEASE project catalyzes actions to strengthen innovation and coordination of circular economy solutions to plastic pollution flowing into the seas of South Asia.
The project aims to; (1) improve the identification and testing of plastic pollution mitigation solutions; (2) increase the leverage of policy solutions and public-private sector engagement in reducing pollution, waste and plastic leakage along the value chain; and (3) strengthen regional integration institutions.
The project was launched in 2020, with funding from the World Bank's International Development Association (IDA) totaling $37 million, and parallel co-financing of $13 million from Parley for the Oceans . PLEASE will be implemented in South Asian countries until July 2025.
UNOPS will support SACEP in the implementation of the first component of PLEASE, which involves the identification and testing of plastic pollution mitigation solutions by providing regional block grants to eligible organizations/institutions in South Asia . A simplified system of grant application procedures will be launched towards the end of 2022, which will enable transparent, accountable and timely disbursement of grants.
UNOPS will also undertake the construction of a state-of-the-art, certified green and low-carbon SACEP headquarters building in Colombo. This structure will be designed to comply with international green building standards and will be a center of excellence for the South Asia region.
SACEP Director General Dr. Md. Masumur Rahman said, "We understand that marine plastic pollution is clearly a transboundary issue and urgent action is needed. Recognizing also that intervention in a single country would not be enough to solve this problem, regional cooperation is vital. In 1982, the eight South Asian countries agreed to act together on environmental issues and the South Asian Cooperative Environmental Program or SACEP was founded.
"SACEP welcomes the assistance of UNOPS in this activity. SACEP would like to express its gratitude to the World Bank and Parley for the Oceans for their valuable contribution in funding this important project and their partnership with SACEP to help our member countries overcome the problem of plastic pollution.
Sudhir Muralidharan, Head of UNOPS Sri Lanka and Maldives, said: "Plastic pollution of our rivers and oceans is probably the most significant environmental challenge facing humanity. The fight against climate change is a key objective of UNOPS and it is an honor and a privilege to engage with SACEP and the World Bank on this important subject.